Dell Networking X-Series Smart Managed Switches
Dell Networking X-Series Smart Managed Switches
Outstanding usability and control.
Easily manage your office network with 1GbE and 10GbE switches that offer enterprise-class features and intuitive, GUI-based management.
Elegant interface, effortless management
The intuitive graphical user interface (GUI) of Dell Networking X-Series switches makes setup and management simple for network administrators. Based on extensive usability testing, the design of everything from navigation to menu structures and help tips is inspired by the way IT professionals think and work, making the interface a pleasure to use regularly or occasionally.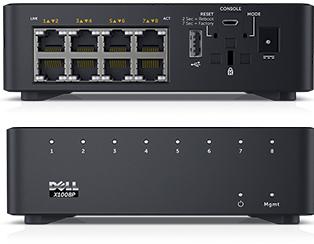 Save time with smart features
Streamlined tools, step-by-step wizards and a customizable dashboard help you manage faster.
Rapidly configure and tune network performance with purpose-built tools and wizards.

Optimize traffic with automation — use point-and-click batch routines for specific applications such as unified communications.

Gain visibility with a detailed dashboard providing a single, customizable view into common tasks, alerts, port status and network visualization.

Skip the learning curve and use familiar commands and alerts similar to PCs and servers.
Minimize risk with enhanced visibility and control